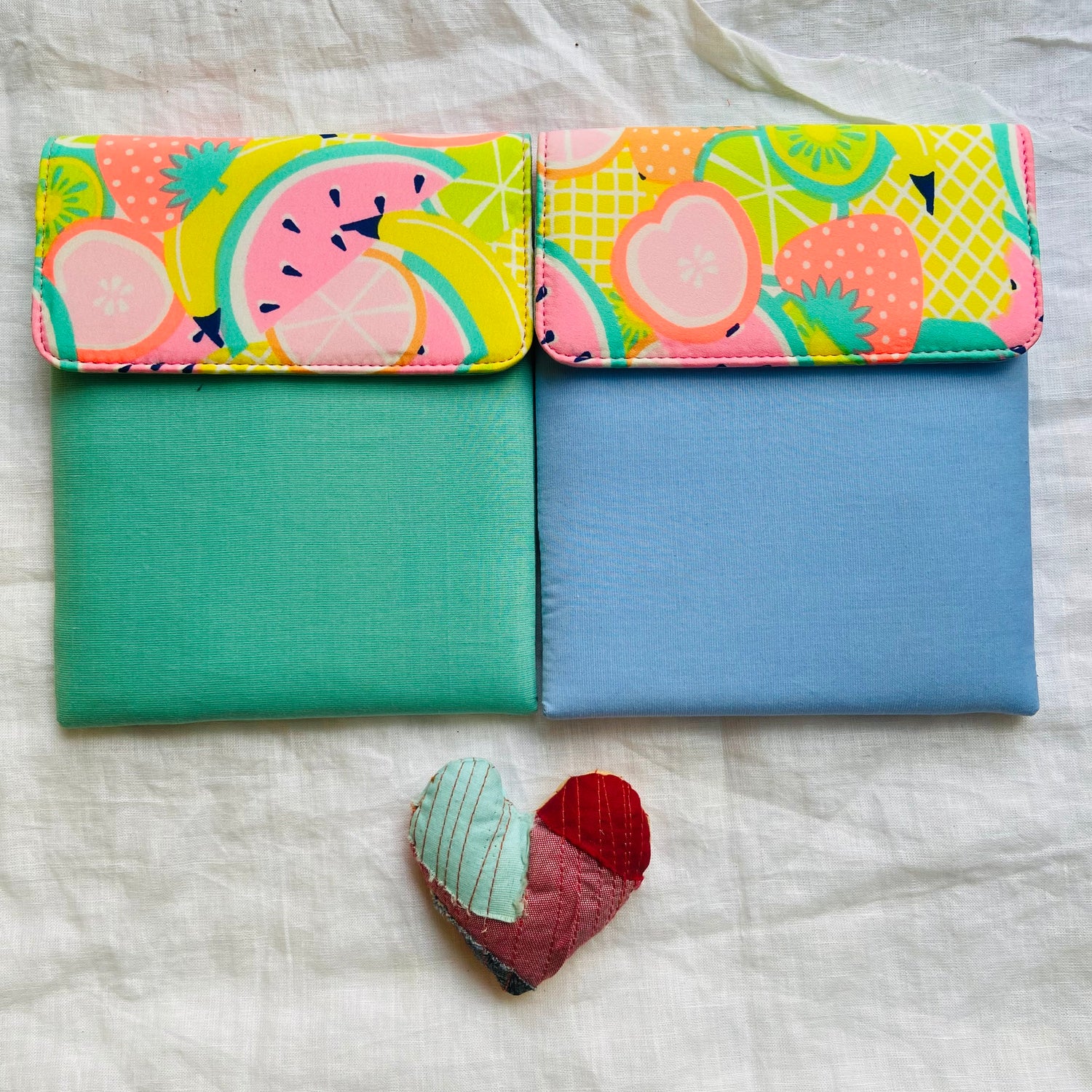 Buy handmade Kindle Sleeves that look super cool and trendy 
When you, your story, the books you read are all unique, why buy a sleeve that's common? Here are Kindle Covers that are handmade, eco-friendly (made out of fabric extras, which would have otherwise ended in landfills) and are super unique. There is only one Kindle Case like that in the whole wide world. Not just that, you can keep your Kindle away from scratches and dust-free with Upcyclie.com Kindle covers.
Best part- these Kindle Sleeves are perfect for protecting your Kindle from breaking from a fall. You have a different kind of Kindle or e-reader, are you worried that you would not be able to find the right e-reader cover? Worry not.
These Kindle Covers fit all e-readers- Kindle Paperwhite and Kindle Oasis of all generations, Amazon Fire tablet and Kobo readers too. You would enjoy looking at a huge variety of colours and combinations of Kindle Sleeves. We are committed to deliver to you a very high quality, best fit and stylish-looking Kindle Covers. Upcyclie has got amazing designs for every reader. Choose the perfect cover for Kindle and your precious reading companion.
Kindle Covers designed to perfection:
Looking for the best Kindle cover in India, you have come to the right place. Upcyclie.com has amazing designs that suit your Amazon Kindle cover online. These are the most attractive Kindle covers that make heads turn wherever you go.
Kindle Covers in Shades of Blue: Handmade from fabric extras and crafted to protect your Kindle from dust and scratches, these Kindle Sleeves in shades of blue would remind you of the books you would read by the ocean. 
Animated Flap Kindle Sleeves: In the mood for some books that would add fun to life, these Kindle Sleeves would match them perfectly. This compact Kindle Cover not only adds to the fun reads, but also keeps it safe from scratches. 
Fabric Kindle Sleeves: Handmade with fabric extras, these ultra-unique Kindle Sleeves check all the boxes and satisfy your different needs for a Kindle Cover. This Kindle cover would keep your Kindle safe and show off your love for sustainability in style. 
Checkout Kindle Sleeves and Covers on Upcyclie.com with Unique, exclusive designs:
We have amazing looking Kindle sleeves and covers in store for all kinds of e-readers- be it a Kindle or a Kobo or even Amazon Fire tab. You are sure to find a Kindle to fit into a 8 inches x 6.75 inches sleeve perfectly. Take a look at the super trendy collection of Kindle covers that you'd fall in love with. 
Multicolour sleeve for Kindle Oasis: Go for this multicolour Kindle Sleeve that fits any Kindle, of any size made till now. You can even fit a Kindle Oasis that has a Kindle Case, into this sleeve, comfortably. 
Pure Cotton Sleeves for Kindle Paperwhite: These simple and elegant sleeves are made with pure cotton fabric extras. The inside cotton lining of Khadi cotton would make sure your Kindle has a snuggly fit inside and protects it from scratches and dust. 
Why buy Kindle Sleeves from Upcyclie.com?
We understand that there are multiple famous options available for you to choose from. But at Upcyclie, we guarantee the product's quality and where it comes from. Every single Kindle cover here is handmade, upcycled- made purely from Fabric extras, that would have otherwise been incinerated or dumped into landfills and oceans. We follow a materials first methodology when we make our products to ensure highest quality. We know that when you own a Kindle, you need a cover that is unique to you, your personality. We listen to our customers and build our products based on their needs and requirements. This gives us the chance to be the best at what we do- making Kindle Sleeves and Covers out of fabric extras, making the world a better place to live in, for the future generations. 
Other products from Upcyclie:
Eco-friendly wallets: Choose wabi-sabi patchwork wallets made from smallest pieces of fabric extras. It as 8 card slots, fits your phone, coins and cash, making it the perfect functional yet trendiest eco-friendly wallet out there
Handmade Mobile sling bags: Carry your phone and all your essentials in just a tiny bag, you would be amazed at how much it can carry.  A perfect grab and go bag for you to step out- can hold phone, cards and cash too (has a zipper at the back!)
Sustainable gifts: These pocket-friendly gifts are perfect for any occasion- from Navarathri to Christmas or even a small return gift for someone who comes home. Best part- they are unique, and very helpful for the environment. Priced below 200, choose from a variety of pouches and keychains. 
FAQs:
1. What materials are the Kindle sleeves made of?
They are all made from fabric extras, which would have otherwise been incinerated (burnt) or ended in landfills- polluting the environment. We divert them, sort, wash them and make them into Kindle covers.
2. Will the Kindle sleeves fit all Kindle models?
Yes, all our Kindle Sleeves fit all the Kindles from all generations including Kindle Paperwhite, Kindle Oasis, Amazon Fire tab and even Kobo e-readers. The Kindle cover is 8 inches (h) x 6.75 inches wide. 
3. How do I determine the right size Kindle sleeve for my device?
As all the sleeves fit all the Kindles, you don't have to worry about the size. However, do write to nam@upcyclie.com in case you need more information. We can surely assist you. 
4. Can the Kindle sleeve be used with other e-readers or tablets?
Yes! These Kindle Covers fit Amazon Fire Tab, Kobo readers as well. It fits all 8.5-9.5 inch e-readers. 
5. How to measure if the e-reader would fit the cover?
All our e-readers are a standard size of 8 inches height with 6.75 inches width. When measured diagonally, it is 8.5-9.5 inches. You can just measure your e-reader either diagonally or on height and width and check if it would fit. It mostly would. We do have a limited collection of Tablet sleeves as well at 11 inches height x 8 inches width. You can check them out here. 
Button label